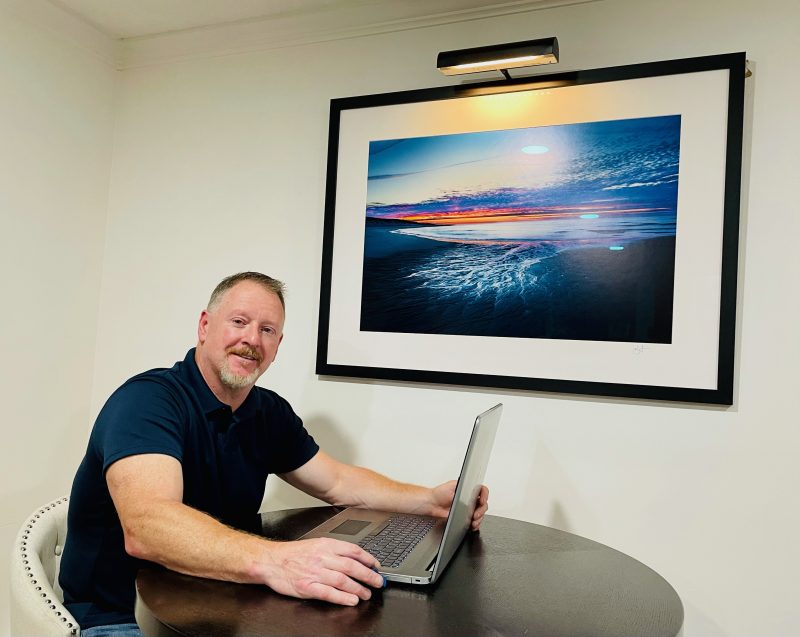 I grew up in and around Boston, Massachusetts. As one of twelve children, I had no choice but to find my own path. I started my career as a young entrepreneur while I was still in high school, and by the time I graduated, I was grossing more than most of my teachers at the time.
I learned early on that one of the main keys to success is to focus on a goal and work as hard as you can to accomplish it. This formula may sound simplistic, but in today's world, with its many distractions and its business bureaucracy, keeping your sales and marketing team focused is often a company's biggest challenge.
Growing up very poor and in such a large family, I had unique experiences that taught me lessons most kids never learn. For instance, when I was only 13 years old, I took a year off of middle school to go with my dad while he worked. I didn't like school, so he thought the best life lesson for me would be to go to work with him, driving a truck for days at a time to New York City. Good or bad, that lesson and others like it have led to my current success.
After such an unusual childhood, I realized I needed to go to college, as I'd missed a lot of basic education when I was young. I attended Northeastern University in Boston under a special Young Entrepreneur program. I didn't want to graduate from college with a substantial amount of debt, so after a couple of years I transferred to Westfield State College and graduated with a B.S. in Computer Information Systems.
Thereafter, I worked a variety of jobs, including successfully managing and growing a very busy local restaurant as well as selling copiers door-to-door. Sales attracted me, as I realized that I could control my own success, and if I used my street smarts and determination I would be successful. My grit made me the youngest salesperson to achieve President's Club status multiple years in a row and opened up opportunities in sales management.
After successful stints as a sales and marketing manager with a couple of companies, I got my first senior management role as Vice President of Sales and Marketing for a small startup software company called Sane Solutions. While there, I was able to grow the company to over 3000 customers in 30 countries. This opportunity allowed me to build a dynamic multi-faceted international sales organization with inside/outside direct sales reps, distribution channels through resellers, OEM, and business intelligence partners. I was part of the senior management team that led this startup to grow from 15 to 75 employees and to make 15 million dollars in annual revenues. The organization sold to Unica, a leading global provider of enterprise marketing management, who then sold to IBM.
My next opportunity was at iEmployee, Inc., where I served as Senior Vice President and developed and implemented a go-to market strategy for a single application, on-demand "Workforce Management Solution." I was responsible for increasing overall revenue by 500% and brought our customer satisfaction rating to 98.6%. I managed multiple departments in their Mumbai, India office, including support, telemarketing, marketing, and client services, and I was responsible for developing and maintaining over 100 strategic partnerships with distributors, VAR's, OEM, system integrators, and payroll companies. Later, Assure Software bought iEmployee.
After my stint at iEmployee, I used my diverse background and sales, marketing, and operations skills to help grow a local student travel company, National Educational Travel Council (NETC), by more than 30% in annual revenues.
From NETC I signed on to help a small bone marrow registry, Caitlyn Raymond. Over the next three years, I successfully grew the registry from 10,000 to 100,000+ registered bone marrow donors, resulting in over 150+ direct matches to date.
I currently own a couple small business as well as Cunningham StreetSmart Consulting With StreetSmart Consulting I'm able to use my 20+ years of entrepreneurial sales, marketing, operations, management, and leadership experience to help companies with any of the following:
Sales & Revenue Growth
Direct Sales Training
Client & Vendor Negotiations
Staff Management & Team Building
Social Media and Digital Marketing
Sales & Marketing Operations
Account Penetration and Closing
International Sales Strategy
Channel Sales & Marketing Development
Product Development
Consultative Sales Techniques
Lead/Demand Generation
Branding